TG4S Series Super Seismic Geophone was developed to meet the needs of high resolution operations of telemetering seismic data acquisition system with 24 bits resolution. With features of wide frequency-band, high aliasing, low distortion, rational damping coefficient, higher resolution and lowest time and phase variation, it can improve resolution of exploration and accuracy of data.
Features£º
1. Margin tolerance of all specifications is within ¡À2.5%
2. Broad frequency-band is from 10Hz to 250Hz
3. Typical spurious frequency is over 250Hz, which applies to requirement of 1ms sampling
4. Distortion is less than 0.1%.


Specification (at 20 ¡æ)

Parameter/Type

TG4S-8

TG4S-10

TG4S-14

TG4S-28

TG4S-35

TG4S-40

Natural Frequency (Hz)

8¡À2.5%

10¡À2.5%

14¡À2.5%

28¡À2.5%

35¡À2.5%

40¡À2.5%

Open Circuit Damping

0.337

0.271

0.200

0.600¡À2.5%

0.600¡À2.5%

0.681¡À2.5%

Damping Coefficient

0.6¡À2.5%
(2400¦¸)


0.6¡À2.5%
(1400¦¸)


0.6¡À2.5%
(640¦¸)


/

/

/

Sensitivity (V/m/s)

28.8¡À2.5%

28.8¡À2.5%

28.8¡À2.5%

31.0¡À2.5%

32.5¡À2.5%

34.0¡À2.5%

Coil resistance (¦¸)

375¡À2.5%

375¡À2.5%

375¡À2.5%

385¡À2.5%

560¡À2.5%

662¡À2.5%

Distortion

< 0.1%

Spurious Frequency (Hz)

250

250

300

400

500

500

Moving mass (g)

11.3

11.3

11.6

10.2

9.3

9.3

Maximum coil excursion p. p (mm)

2.0

2.0

2.0

1.6

1.8

1.8

Diameter (mm)

25.4

26.0

Height (mm)

32.0

Warranty Period (year)

3 (geophone element)

Operating Temperature

©\40¡æ ¡« + 100¡æ

Characteristics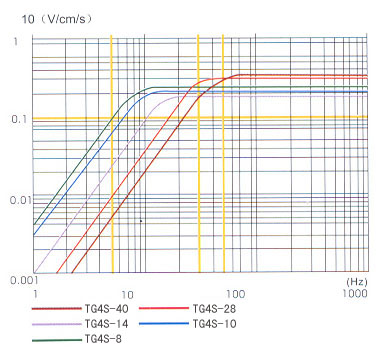 TOP¡ü